SPORT AT PARADE COLLEGE
At Parade College, Sport is a key vehicle for fostering students' spirituality and the Edmund Rice charism. Whilst pursuing their passion for Sport, the sporting arena provides an opportunity where students can actively learn and practise gospel values such as solidarity, inclusion, justice and the virtue of striving for excellence.
Key objectives of Sport at Parade College
Provide opportunities for all students to gain an appreciation of the fundamental principles of physical activity, a healthy lifestyle and the benefits of team sport
Actively promote and strengthen school spirit, camaraderie and the development of enduring friendships through student involvement in sports programs
Offer specifically tailored programs and opportunities to students who are passionate about sport and wish to explore elite pathways
Provide top quality coaching and leadership through our experienced team of sports staff, supplemented by partnerships with elite sporting bodies and specialist coaching consultants
Fully utilise the outstanding on-site sports facilities at Parade College
Our General Sport programs include (but are not limited to)
Timetabled Physical Education and weekly Sport is accessible to all students in the Junior levels, ensuring that all Paradians have access to sporting opportunities at the College.
ACC Sport: Parade fields sports teams in Athletics, Swimming, Cross Country, Football (AFL), Soccer, Cricket, Basketball, Tennis, Volleyball, Table Tennis, Hockey, Badminton, Golf and Lawn Bowls in the Association of Catholic Colleges (ACC). The ACC is a strong and well-established association (formally formed in 1948, although informal competition pre-dates this), that provides excellent weekday competition for students at all year levels, throughout the year. In addition, we field teams in state and national competitions as the opportunity arises.
Elite Pathway programs include (but are not limited to)
At Parade, we seek to provide specialist programs that capture the enthusiasm and passion that our students have for sport and can assist in preparing them for elite pathways and competition. While it is hoped that students involved in these programs will excel in sport (as many here have done so before), perhaps more importantly these sporting programs seek to teach students about high performance approaches, which are transferable to broader study, relationships and life in general.

Year 7 Sport Acceleration Program

This program provides:

Access to specialist coaching
The opportunity to train with similarly talented students

Through the following sport electives, Year 7 students can pursue their sporting interests while developing a high-performance approach to mental and physical preparation:

AFL
Basketball
Cricket
Tennis
Athlete Development

Each Sport elective runs for one term (9-10 weeks in length) / 7 lessons per cycle and is in addition to the general Year 7 sport, PE programs and ACC Competition matches.

Students can be selected in a maximum of two sport electives.

Trials for the sport electives are held for enrolled Year 6 students prior to commencing Year 7 at Parade College.

Places in the Year 7 Sport Acceleration Program are limited and trying out for the Year 7 Sport Acceleration Program is optional.

Participation in Year 7 sport electives replaces participation in non-sporting electives.
The Senior Sport Academy


Provides an opportunity to extend students in the High Performance Stream who choose a VCE Vocational Major pathway in the senior years and wish to continue focussing on careers in the sport industry. Upon successful graduation from Parade, Academy graduates can gain Certificate level qualifications and, through a unique partnership with La Trobe University, can gain direct access into the following Bachelor degrees in related fields:
Senior Sport Academy Brochure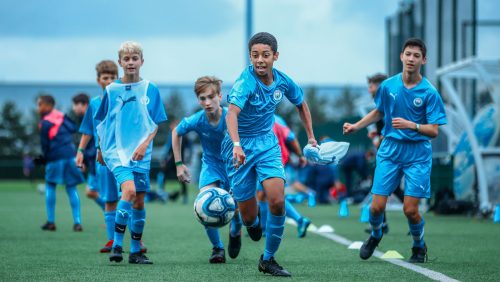 Manchester City Football School
Commencing in Year 7, students accepted into the Manchester City Football School receive instruction from a Manchester City coach who is employed fulltime at Parade College. Students in the Manchester City Football School are trained in the same manner as elite Juniors worldwide who participate in Manchester City feeder programs. The Manchester City Football School is incorporated into students' daily timetables. More broadly, students across the entire football and high-performance programs benefit from direct access to the Manchester City Coach.

Facilities
At Parade College we are blessed with state-of-the art modern sports facilities and vast open spaces. Facilities include:
The recently opened Waterford Precinct, which includes a world-class FIFA approved synthetic soccer pitch, and dedicated elite standard AFL oval, serviced by a modern pavilion which is ideal for viewing and functions.
2 dedicated High Performance training fitness centres
A synthetic Athletics training track
3 indoor Basketball courts, with capacity for stadium seating on the show court
3 Ovals: two for Cricket and one for AFL
3 synthetic Soccer pitches and indoor Soccer facilities
A synthetic Hockey field
6 Tennis courts
7 Volleyball courts
5 enclosed practice Cricket nets
6 Badminton Courts and scope for onsite Table Tennis