We look forward to Manchester City's 'football effect' promoting health, education and inclusion, to improve the lives of the young people enrolled at Parade.   Our hope is that each of the students enrolled at Parade College can excel in whatever endeavour: Arts, STEM, VCE, VCAL, Community Action, Sport or whatever.
This exciting partnership with Manchester City is a further reminder that in celebrating 150 years, Parade College's best years are ahead of us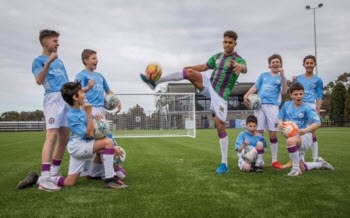 I read online a reflection from Michael McGirr, the Head of Mission at Caritas of what may be an emerging urban myth. In these days of endless Teams and Zoom Meetings, if you cover your own picture with a Post It note, a day of Teams and Zoom Meetings becomes less tiring.
Michael quotes research on hairdressers who have to work seeing themselves in the mirror all day. This is apparently more exhausting than dealing with fussy clients. When we are able to visit the hairdresser again we might ask! But I Have been trying covering my own image and it is working for me, the days seem lighter.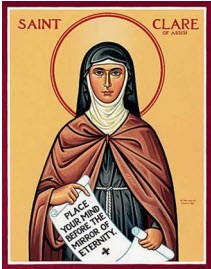 Which brings me to Clare of Assisi whose Feast Day is today. She founded the Poor Clare Sisters and wrote the first set of monastic guidelines known to have been written by a woman. Pope Pius XII designated Clare as the patron saint of television in 1958 on the basis that when she was too ill to attend Mass, she had reportedly been able to see and hear it on the wall of her room.
I know there is a tradition of bringing offerings of eggs to the Poor Clares for their intercessions for good weather, particularly for weddings. Together with Francis of Assisi, she is probably the antithesis of the narcissism that can pervade our culture.
Clare is a beacon of being humble and more concerned for others. Clare sought a manner of living that was deeply relational: a search for God and the Spirit that was honest, simple, poor, rigorous, gentle, sometimes extreme but nevertheless joyful.
A model for all of us in these times.