About Us and Our Aim
Parade College established Eddies Backpacks program in 2013. We have a high aim of making foster children feel better and safe.
To do that, we distribute backpacks to foster children on the first night in their new homes. Doing this makes the child feel welcomed and appreciated during a challenging moment in their lives.
We provide hundreds of bags full of essentials to the Foster Care Association of Victoria (FCAV) each year.
We love seeing the smiles on their faces, it's priceless.
Our backpacks support the foster parents as well. They receive very little economic support and sometimes little notice on when they are needed to care for a child. We hope that our backpacks support everyone involved within foster care.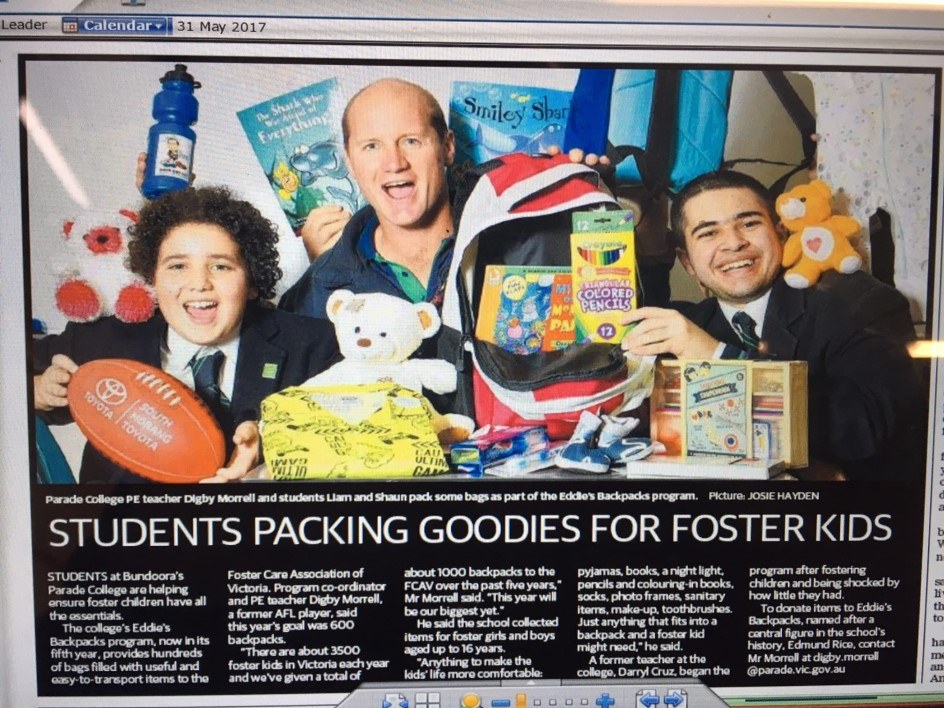 Contents of Backpacks
We aim for each backpack to have at least the following items:
Books
Clothes/PJs
Toys
Sports equipment
Water bottle
Towels
Toothbrushes/Toothpaste
Blankets
Watches
School Supplies
How You Can Help
You can help by donating to Eddies Backpacks, it can be anything you would consider that would be helpful or necessary. Or you can join us volunteering on Wednesdays during recess.
How to Donate
If you would like to donate to the Eddies Backpack program, please email Mr Shaun Spiteri Shaun.Spiteri@parade.vic.edu.au or Mr Digby Morrell dmorrell@parade.vic.edu.au
For More Information
If you would like more information please visit our Facebook page https://www.facebook.com/helpf...
For more information about Foster Care please visit the FCAV page https://www.fcav.org.au/news/p...